Instinctive Movement System is the perfect ergonomic safety solution for the health of the seated worker.
Seated workers comm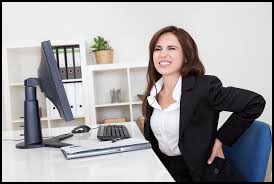 only suffer with multiple aches and pains. Pain in the low back, mid-back, neck, shoulders, arm/hand, CTS are the most common. These aches and pains can lead to lost productivity/focus, absenteeism and even injury claims. Traditional solutions usually include ergonomic corrections, stretching or by replacing chairs, work stations or other tools. While these solutions are important they typically only provide short term relief and usually don't get to the root of the problem.
    The Journal of the American Medical Association estimates that 4.5 hours per week of productivity are lost to employees that suffer from chronic pain.
IMS gets to the root of the problem and provides solutions that assist the employee in managing their aches and pains, correcting posture by fixing muscular imbalances, reducing fatigue and improving productivity and focus. At the root of most of the problems seated workers suffer from is dysfunctional movement. By correcting dysfunctional movement, the body comes back in to balance allowing employees to sit stress free, pain free and reduce fatigue. This also leads to other safe behaviors around the office when it is required to bend or lift. The risk of claims is dramatically reduced.
Sound complicated?  It's Not!  Our goal is to keep things very simple, effective and not time consuming. The techniques taught to seated worker can be performed in only minutes per day. The good news is the techniques are not only effective for employees while at work they also have a positive effect on their lives away from work.
Employees will learn:
Where bad posture comes from and how to correct it.
How to sit effectively without physical pain or stress.
How to reduce fatigue when sitting.
How to be able work (lift, push. pull) safely out of the chair.
Tips on managing daily aches and pains.
Consider IMS for your seated worker's health. This is an effective solution for risk/safety programs as well as HR/wellness programs. It's time to stop putting "band-aids" on real problems and get to real solutions.
The Seated Worker training is also available on video. This video walks the seated worker through the steps to reduce pain, stress, fatigue and restore posture.
---
IMS is an extremely valuable tool to add to your current safety program as well as your health and wellness program. Contact us today to learn how the Instinctive Movement System can improve performance and reduce the risk of injury at your workplace. Call (715) 781-6195 or email info@instinctivemovement.com.